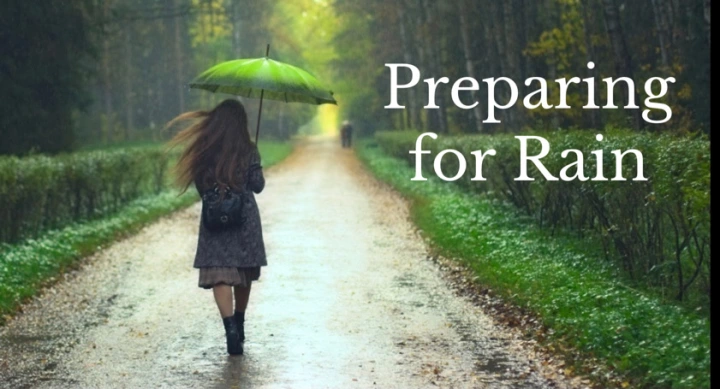 My husband and I are in the processing of buying a home.  We've been renting for a number of years and have prayed about a new home many times.  I've often talked about the three things I really want in a new home (and how I only intend to move one more time).  The ironic thing is that I am only getting one of the three in the house we are buying but I am beyond excited.  The one thing I am getting in our new house is that it is out in the country, off the main street through town.  The view from what will be our back deck is amazing and I am looking forward to watching many sunrises and sunsets from our front porch and back deck.  The new house is also literally right across the street from one of our two churches.  We are both very excited and humbled to be able to be right in the community to which we know God has called us.
However, despite how excited I am about this house and the knowledge that while the closing date has not been officially set, it will be within the next 2-4 weeks, I have not even begun to think about packing.  Why?
I was driving to church alone the other night for Bible study.  Often, I will have the stereo turned up, blasting worship music and singing at the top of my lungs.  Just as often I will have no music on as I listen to the car wind chimes I have hanging from the rear-view mirror and talk to God.  That is what I was doing Monday night.  I was pondering why I had not begun to pack yet.  It occurred to me that I am afraid.  I am afraid of this deal falling through.  I want this so much I almost feel as though it is too good to be true.  I have had my fair share of disappointments in life, and I guess in a way, I have been preparing for yet another one.
As I was pondering these feelings, I distinctly heard God say, "Prepare for rain."  I knew immediately what He meant.
Do you know the story from the movie Facing the Giants?  Mr. Bridges is talking to Coach Taylor and tells him this story.  There were two farmers who desperately needed rain.  Both prayed for rain but only one of them went out and prepared his fields to receive it.  Then he asked, "which one do you think trusted God to send the rain?"  Coach Taylor replied, "Well, the one who prepared his fields for it."  Mr. Bridges replied, "Which one are you?  God will send the rain when He is ready.  It's your job to prepare your field to receive it."
There are many places where the scriptures back up this modern-day parable.  The story of Elijah and Ahab in 1 Kings 17-18 is just one of them.
And Elijah said to Ahab, "Go up, eat and drink, for there is a sound of the rushing of rain." So Ahab went up to eat and to drink. And Elijah went up to the top of Mount Carmel. And he bowed himself down on the earth and put his face between his knees.  And he said to his servant, "Go up now, look toward the sea." And he went up and looked and said, "There is nothing." And he said, "Go again," seven times. 44 And at the seventh time he said, "Behold, a little cloud like a man's hand is rising from the sea." And he said, "Go up, say to Ahab, 'Prepare your chariot and go down, lest the rain stop you.'" And in a little while the heavens grew black with clouds and wind, and there was a great rain. And Ahab rode and went to Jezreel.  And the hand of the Lord was on Elijah, and he gathered up his garment and ran before Ahab to the entrance of Jezreel.  (1 Kings 18:41-46 ESV)
Elijah does not just pray for rain.  He does not just prepare for rain.  He speaks as if the rain has already come.  There was no natural sign of rain in verse 41, yet Elijah heard the sound of rain by faith because God spoke to him.  Even before he prayed, Elijah declared God's word as a fact.
Romans 4:17 (ESV) says that God "gives life to the dead and calls into existence the things that do not exist." 
"Since we have the same spirit of faith according to what has been written, "I believed, and so I spoke," we also believe, and so we also speak." (2 Corinthians 4:13 ESV)
Elijah believed and what he believed, he spoke.  He trusted God's word more than he trusted his own natural senses.  He prayed.  He sent his servants to look – seven times!  At the first sign of rain, he declared, "Go down before the rain stops you!"
This is what the prayer of faith looks like.
James 1:6 (ESV) says, "But let him ask in faith, with no doubting, for the one who doubts is like a wave of the sea that is driven and tossed by the wind."
1 Corinthians 15:58a (NIV) says, "Therefore, my dear brothers and sisters, stand firm. Let nothing move you."
I'm taking a stand.  I'm praying for rain.  I'm going to prepare my fields.
That means I'm going to start packing because I trust God to bring the rain!
I'm also going to start carrying an umbrella everywhere I go!
Be fierce.  Be fearless.  Be faithful.